Amsterdam resident Deborah Nicholls-Lee selects her pick of the best budget hotels in this lively European capital
Drawn to the picturesque canals, famous art museums and lurid nightlife, visitors to Amsterdam now outnumber residents like me by 10 to 1, creating a demand for overnight accommodation that is hard to meet. This, coupled with an embargo on hotel building, has seen the price of a hotel room creep up across the city.
But as the capsule hotel concept takes root here and some cool new budget chains come to town, affordable options are emerging. Travel low season, go small, or stay a bit further out, and you can still grab stylish, low-cost accommodation within easy travelling distance of the main attractions. Here are my best budget picks.
Neighbourhood: De Pijp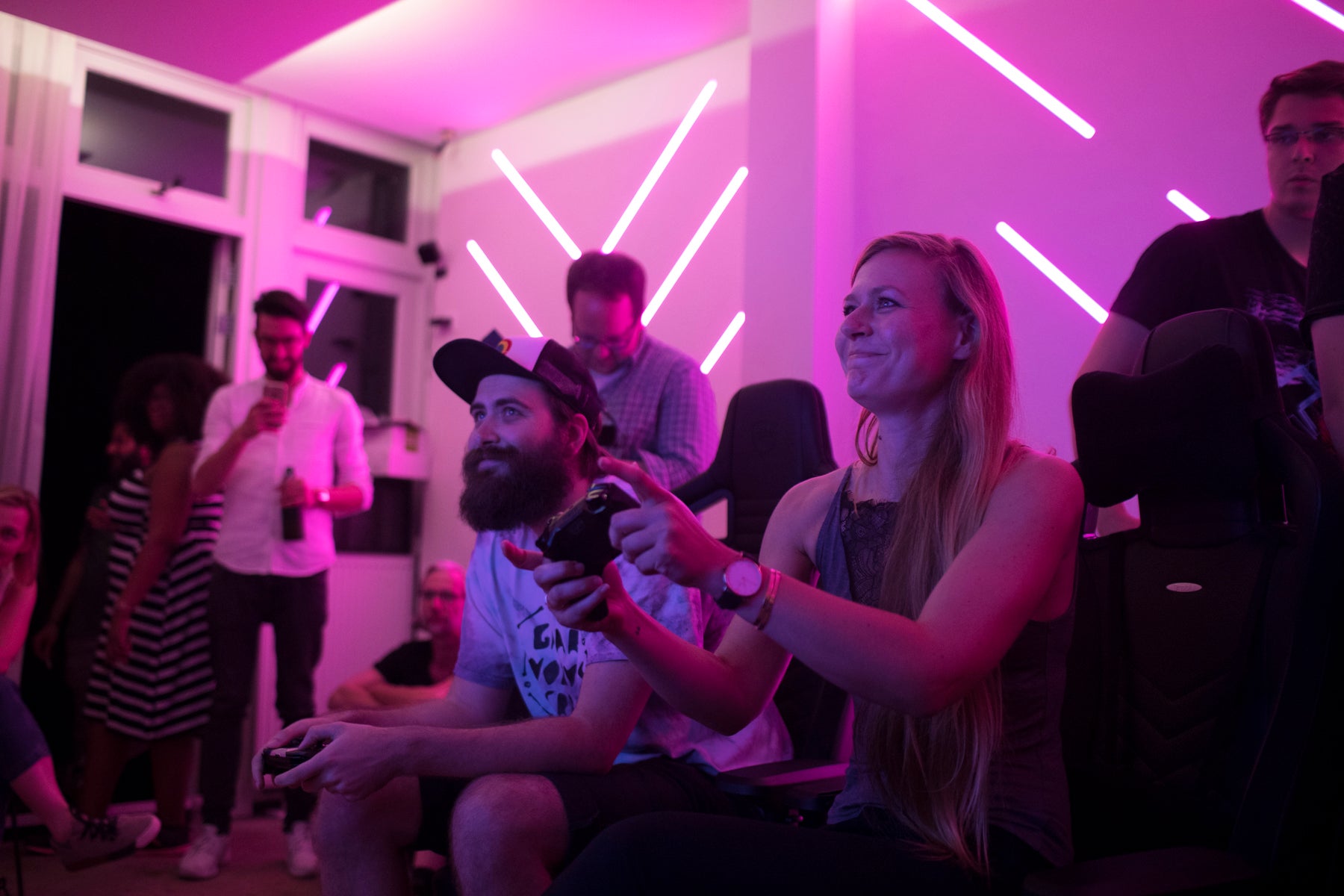 The target market of this three-star-superior hotel is thirtysomething video gamers and comic enthusiasts who refuse to grow up – and with a 24/7 bar and gaming consoles (one modern, one vintage) in every room, it's late bedtimes all round. The 42-room, two-year-old hotel hosts gaming workshops and tournaments and is popular with celebrity gamers from around the world. Six-player teams can play in the Game Room, which has a virtual reality rig and two 65-inch screens. When the neon lights and media walls of the hotel get too much, escape to the landscaped Sarphatipark opposite, where overgrown kids can go for a secret smoke. If you're a gamer, you'll get it. If not, it's still a good value option in a lively but leafy district a short tram ride from the centre. Breakfast is €10 if booked in advance.
Doubles from €70, room only
arcadehotel.nl

Best for cool design close to the music venues: Jaz Amsterdam
Neighbourhood: Bijlmer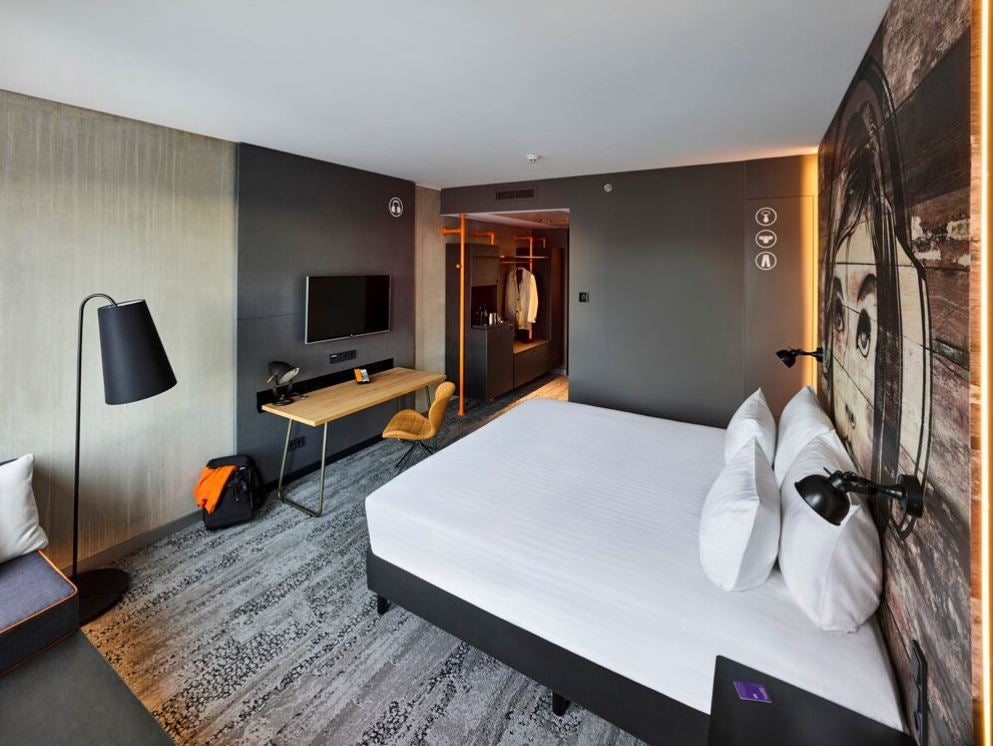 Not everyone would choose to sleep in a building wedged between Amsterdam's biggest music venues, but if you've got tickets for the gig, it's perfect. Catering to the cool crowd, this music-themed hotel features artistic, urban design and a lively agenda, making it a more happening and stylish choice than the nearby Easy Hotel (from €69) – though both favour orange decor. The Rhythms Bar and Kitchen is the hotel's social hub and is open for lunch and dinner, serving mainly salads, burgers and booze to a soundtrack of resident DJs and live music. Breakfast is €15. Bijlmer itself is a bit of a concrete jungle but the historic centre is just a 20-minute metro ride away.
Doubles from €100, room only
jaz-hotel.com/amsterdam

Best for design enthusiasts: Hotel Dwars
Neighbourhood: Eastern Canal District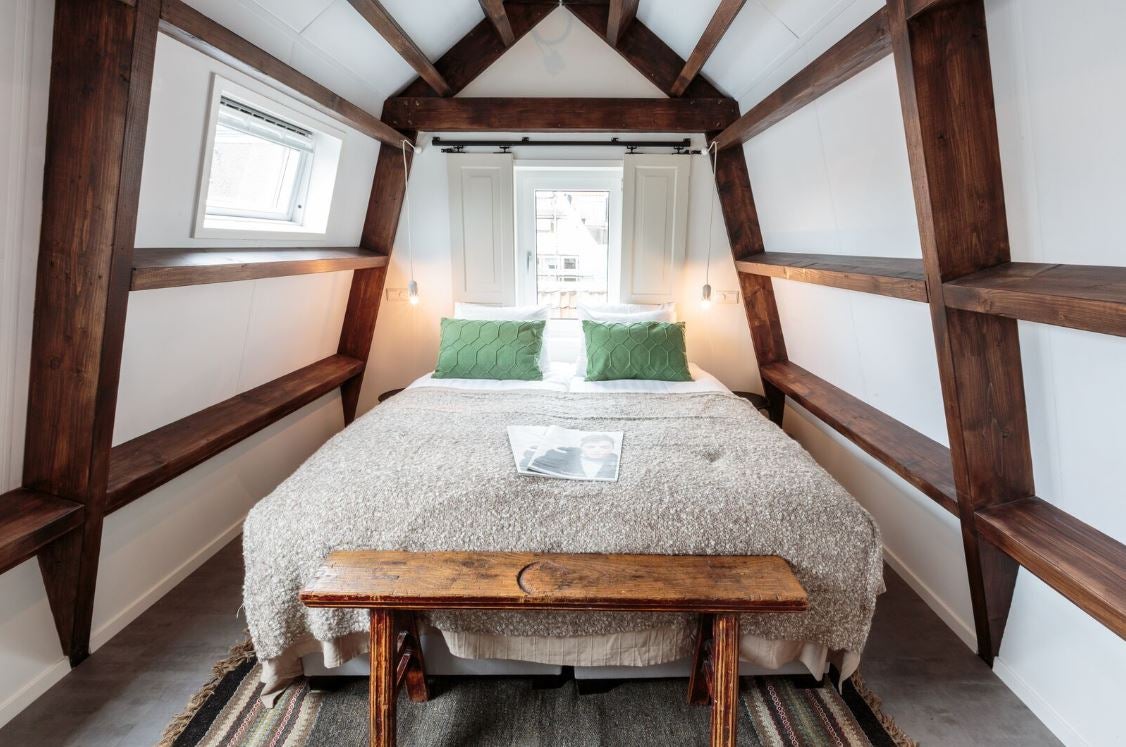 This exceedingly narrow, nine-room hotel in a cute side street is a super find if you don't mind climbing a few stairs. Sleeping two, three or four, the lovingly decorated rooms are a delectable, tactile combination of repurposed materials, vintage finds and modern pieces styled by the design team at Things I like Things I love. The eclectic Utrechtsestraat high street around the corner has survived excessive touristification and is full of interesting independent shops, cool restaurants, trendy homeware stores and smart boutiques. The hotel does not offer breakfast but there are lots of good cafes nearby.
Doubles from €100, room only
hoteldwars.com

Neighbourhood: Museum District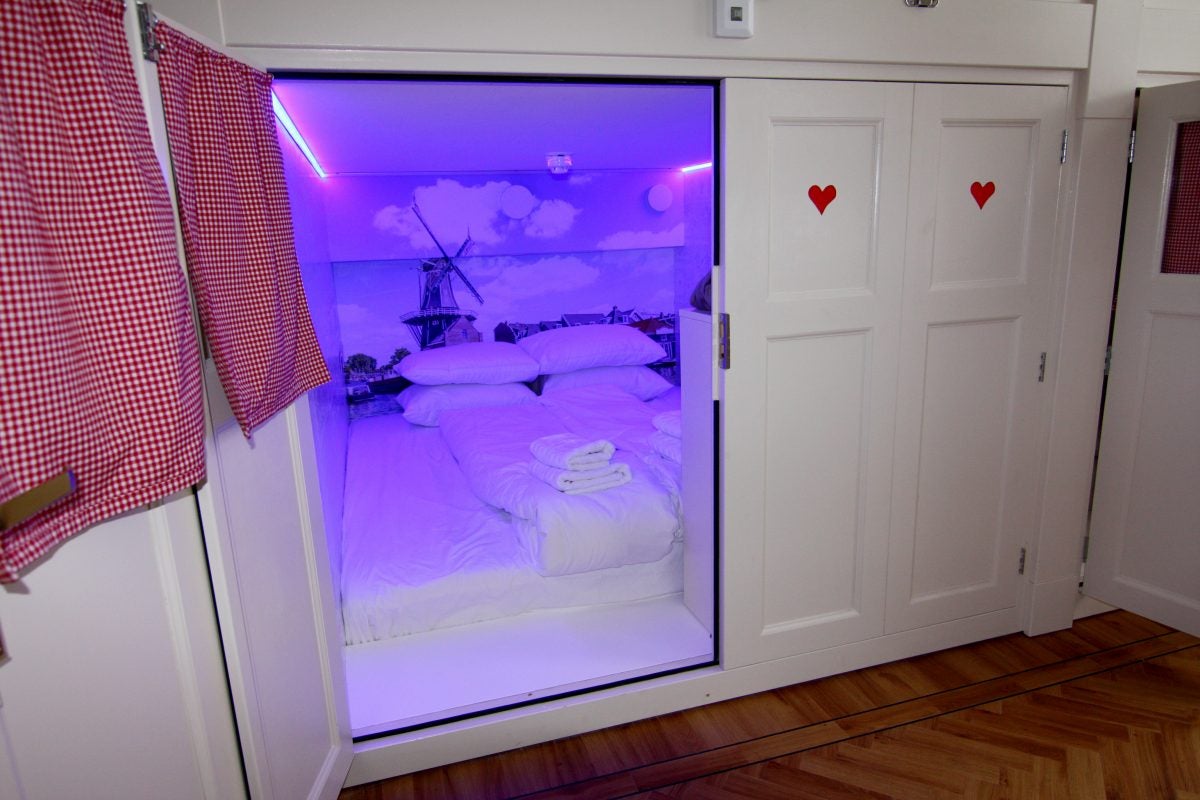 Quirky but lovely, this friendly hotel sleeps its guests, not in rooms, but in neighbouring sound-proofed "bedstees" – beds in a cupboard as Dutch countryfolk once slept. Luggage has to be stored separately and the bathrooms are shared, but you get affordable accommodation with bags of character in an upscale part of town just five minutes' walk from the art museums and the Concertgebouw. Downstairs, there's a cosy bar with stained-glass windows, an Art Deco fireplace and an explosion of colourful felt wallpaper and velvet furnishings. Breakfast (from €7.25) is a five-minute walk away at café Bagels & Beans.
Doubles from €55, room only
debedsteehotel.com

https://www.independent.co.uk/travel/hotels/amsterdam-cheap-hotels-city-centre-best-price-room-budget-stay-available-area-a8570816.html